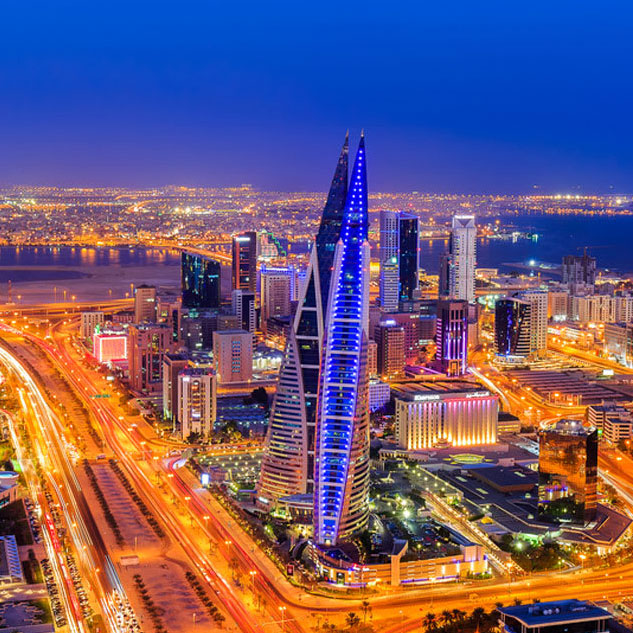 About Us
DenizBank Bahrain Branch initiated on 20.07.2002 with an off-shore banking licence from the Central Bank of Bahrain and began banking transactions on 27.09.2002. Since 24.04.2007, the Branch carries on wholesale banking business with "Wholesale Banking License" from the Central Bank of Bahrain dated 24.04.2007.
Loans
Project Finance Loans, Investment Loans, Working Capital Loans.
Deposits
Minimum deposit amount is USD 200.000 or equivalent.
Derivative
TransactionsForwards, Options, Futures, Swaps, FX.
Trade
FinanceInternational Payments, Import/Export LCs, LGs.
DenizBank Türkiye
In 1997, DenizBank was acquired by the Zorlu Holding in the form of a banking license from the Privatization Administration. Undergoing three shareholder changes and done public offering in its short history, the Bank was acquired in October 2006 by Dexia, one of the leading financial groups of Europe. Later on, being subject to the biggest one-time investment made by Russia in Turkey, DenizBank started to serve under the umbrella of Sberbank, one of the biggest banks in the world, as of September 28, 2012. Finally, the shares were transferred to Emirates NBD as of August 2019, again one of the leading institutions in its region.
In the frame of corporate identity projects, the bank implemented a "back-to-life" program covering recruitment and opening new branches, by preparing a five-year strategic plan in 1997. The bank supported this process by acquiring some of the bank branches under the control of Saving Deposit Insurance Fund and including Tarişbank to the group at the end of 2002. During this period, the bank acquired banks in Austria and Russia in addition to its factoring, financial leasing, investment and portfolio management companies in order to perfect the range of its existing banking products and services. Besides, DenizBank took over the Retail Banking Department of CitiBank as of July 1, 2013 together with its more than 600 thousand customers and around 1,400 employees.
Since its foundation, the bank has made substantial investments in technology, R&D and innovation, was entitled as the "Most Innovative Bank of the World" more than once in the USA and Europe, and has integrated all the areas of either physical or digital contact with customers through "phygital" strategy. In July 2021, the bank established a new fin-tech company NEOHUB as a subsidiary of Intertech, in order to support the entrepreneurial ecosystem of Turkey with the "ecosystem banking" understanding.
In addition, DenizBank works for the future of its country and society, providing support in all areas such as health, sports clubs, municipalities, shipping, tourism, energy, education, infrastructure and agriculture, taking it as a duty to embrace the needs of SMEs who are the heart of economy, and creating precedent financing models for the sector in most of these areas.
In addition to DenizBank, DenizBank Financial Services Group includes six domestic and three international financial subsidiaries, six domestic non-financial subsidiaries and a branch in Bahrain. DenizYatırım, Deniz GYO, DenizPortföy Yönetimi, DenizLeasing, DenizFaktoring, FastPay, Intertech, NEOHUB, DenizKültür, Ekspres Bilgi İşlem ve Ticaret, Açık Deniz Radyo-TV and Bantaş are the domestic subsidiaries of the Group, and Eurodeniz, DenizBank AG and DenizBank Moscow are the foreign subsidiaries. With a broad service network reaching all parts of society in Turkey, DenizBank has 687 branches in Turkey and Bahrain, in addition to 25 branch locations of its subsidiary DenizBank AG in Austria and Germany. The Group operates in EU countries via DenizBank AG, while CJSC DenizBank Moscow serves abroad to the existing customers that have trade relations with Russia.
Shareholders Equity (inc. Subordinated loan)
Number of Customers-million
(1) Consolidated BRSA figures prepared according to IFRS 9
‍(2) Including subsidiaries branches